By Stella Katsipoutis-Varkanis
Year-round, Lafayette College students have the opportunity to participate in academically meaningful experiences outside of the classroom. Through collaborative research projects with Lafayette faculty, students enhance their academic skills as well as develop other skills that will be useful in postgraduate education and careers.
EXCEL Scholar Ella Dalgliesh '25, an anthropology and sociology and government and law double major, and Stephanie Chan, assistant professor of government and law,  teamed up this summer to examine how Americans understand democracy.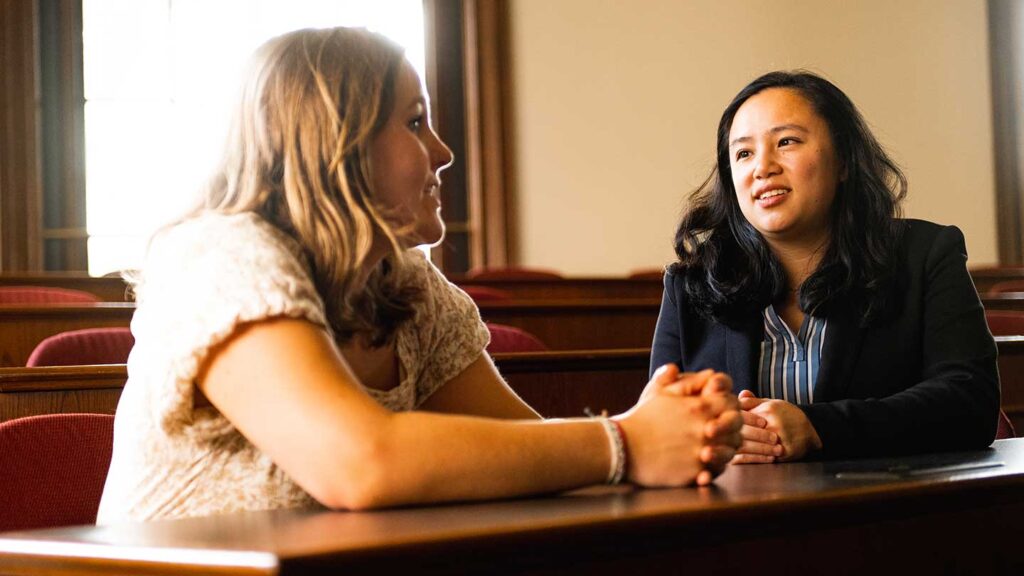 Lafayette College's namesake, the Marquis de Lafayette, fought to establish the United States, making possible the United States' system of governance today. In studying democracy in the United States today, we return to these roots of asking fundamental questions about American governance and exploring its possibilities as well as its shortcomings.
—Prof. Stephanie Chan
What is your research all about?

PROF. STEPHANIE CHAN: My research focuses on immigrants in the United States, racial and ethnic politics, political participation, American public opinion, and political networks. This project brings together several facets of my research interests. In it, we examine the ways in which Americans understand democracy and how those various understandings could be used to influence their support for political policies. Our research question, broadly stated, is: 'Is Americans' support for democracy able to influence what they think of policies?' In an online survey experiment that was designed and fielded in collaboration with Prof. Amel Ahmed of University of Massachusetts Amherst, we test whether different ways of describing democracy will lead respondents to be more or less supportive of various policies.
ELLA DALGLIESH: It is no secret that our democracy has come into question various times, so this research project aims to look at the general support for an inclusive democracy for all in the United States, while also looking at who is more likely to support democracy or not. Looking at support for an inclusive democracy is critical and very interesting as our country becomes more diverse. The way this research project looks at support for inclusive democracy is by asking if they would support policies that are framed as undemocratic or democratic.
What appealed to you about doing summer research on this project?

DALGLIESH: I started working on this project with Prof. Chan shortly after spring break. After working on it for the second half of the second semester of my junior year, she asked if I would like to continue for the summer. I thoroughly enjoyed working on the project and learning more about the state of and support for our democracy. As I had not known a lot about the subject at the time, continuing my research over the summer was certainly appealing. As I'm a government and law major who enjoys learning new things, having the opportunity to help on this project and learn skills like research, coding, and more has been invaluable. I also have had the privilege of working with and meeting the co-author of this research project, as well as working with Prof. Chan on other projects.
CHAN: For me, this summer was an opportunity to really focus on my research and on mentoring Ella. Scholarly questions surrounding the state of American democracy and how Americans understand and feel about American democracy are so nebulous that this summer really represented an opportunity to dive right in. 
What makes this research project a purely Lafayette experience?

DALGLIESH: At a small school where you form meaningful relationships with professors, doing research with professors is something that certainly is attainable if you work hard and seek it out—and something that is not as common at other larger academic institutions. I initially met Prof. Chan because I was in two classes with her. Thanks to the small class size and her office hours, I was able to meet and get to know Prof. Chan, and then have the opportunity to do research with her. Research is a big part of the student experience at Lafayette, which I very much appreciate. 
CHAN: Lafayette College's namesake, the Marquis de Lafayette, fought to establish the United States, making possible the United States' system of governance today. In studying democracy in the United States today, we return to these roots of asking fundamental questions about American governance and exploring its possibilities as well as its shortcomings.
Why is this project important to advancing humankind?

CHAN: For me, politics is about what can be accomplished when we as humans work together—and the problems that occur when we do not. In studying various understandings of American democracy, we are really examining how united Americans really are under the banner of democracy, and whether this will help or hinder our ability to work together to govern.
DALGLIESH: If we can understand if there is a lack of support for democracy and if there is democratic backsliding, then we can understand how to remedy it. Upholding our democracy is important, so having a better understanding of the support, or lack thereof, for democracy and democratic policies is vital not just for the United States, but for other democracies as well.
What have you enjoyed most about working with each other? What's the greatest lesson you've learned from one another?

DALGLIESH: I have learned so much from working with Prof. Chan. As she has worked on multiple research projects, she is very knowledgeable about conducting political science research. I have learned various skills, like coding, finding strong sources for literature reviews, navigating and utilizing political science survey data, and more. Among everything I have learned, working with Prof. Chan has taught me the importance of having a strong work ethic and working hard to achieve your goals. 
CHAN: I have most enjoyed seeing how much Ella is learning and growing as a scholar through this process. Ella is very inquisitive and thorough, and she takes initiative. For example, Ella is quickly learning key facets of computational social science with very little guidance from me. I am extremely impressed with how quickly she is learning a complex coding language and the dedication she brings to her work. She also has clarified her own research interests, and I am working with her to lay the groundwork for her senior thesis—even though she is only entering her junior year.
I have learned a great deal from Ella since we have been working together. Ella also was an EXCEL Scholar during the spring 2023 semester, and I worked with her then as well. Throughout our time working together, Ella has brought a fresh perspective to the research questions, pointed out interesting facets of the project, and brought up alternative ways of looking at the research question. 
Will you be continuing the research beyond this summer?

DALGLIESH: Yes, I will be continuing this research this year as well! Hopefully, during my senior year, I will be conducting my own research as well with the help of Prof. Chan. I have started brainstorming and looking at literature this summer.
CHAN: One research product of this work is a conference paper co-authored with Prof. Amel Ahmed of University of Massachusetts Amherst. This conference paper will be presented at the American Political Science Association Annual Meeting this month. I am also aiming to submit a version of this project to a peer-reviewed journal, and I am considering writing a public-facing piece, like an op-ed, based on this work. 
Why is this research valuable to you?

CHAN: American democracy is multilayered with many contradictions; and yet, it is still claimed as a cornerstone of American identity. As such, an understanding of American democracy may underlie so many other political views while simultaneously holding the promise of being a concept that can unite many Americans. I also find this project particularly intriguing because it offers insight into my other work on immigration, race, and political participation in the United States. More specifically, as part of this project, we examine whether views of democracy are related to policies which would benefit racial minorities and immigrants. 
DALGLIESH: This research is valuable to me because I am getting to learn about topics in depth and learning valuable research skills. Before doing this research project, I had never learned about democratic backsliding or the various ways in which political scientists conduct research. Now, I have the confidence to do my own research. It is also very valuable to me because I am happy to be a part of something that will have a positive impact on the world of political science.