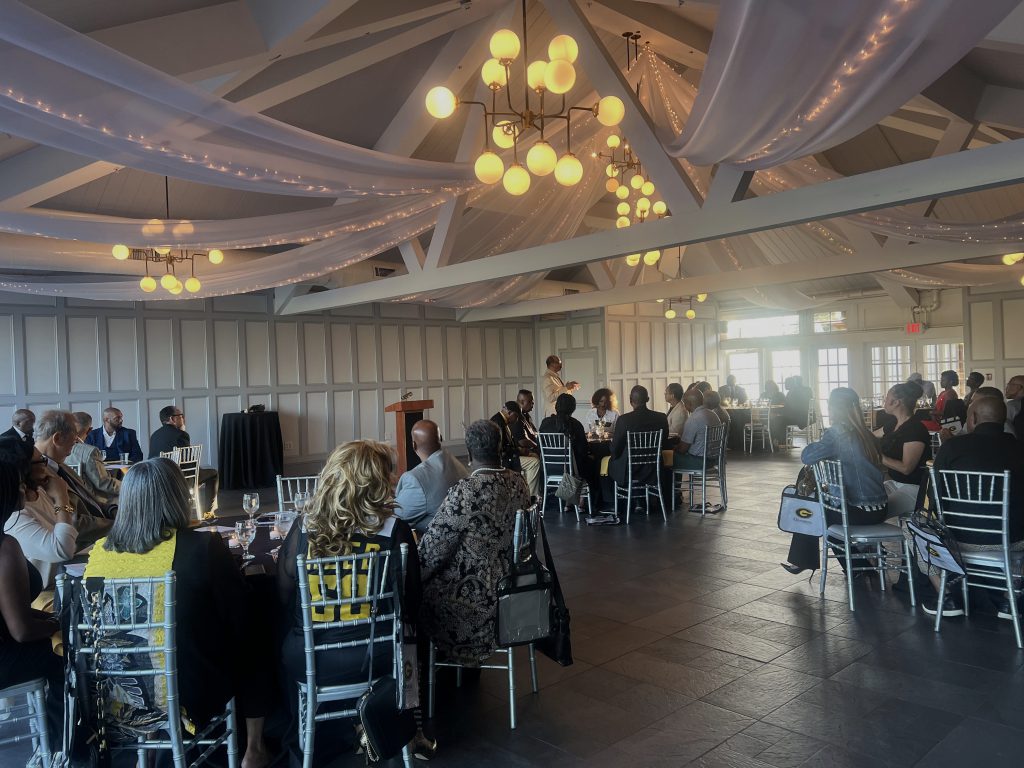 Naismith Memorial Basketball Hall of Famer Willis Reed, a Grambling State University graduate, and Grambling Sports Legends Hall of Famer, was always a champion for his alma mater, praising the time he spent at the college and the education it provided him. 
After leading was what then known as Grambling College to its only men's basketball national championship ever — a 1961 National Association of Intercollegiate Athletics title over Georgetown of Kentucky — Reed went on to become a standout for the NBA's Knicks, becoming a seven-time NBA All-Star while leading New York to league championships in 1970 and 1973. 
 During his playing career, and later as a college head coach (Creighton University) as well as head coach of the NBA's New Jersey Nets, where he later served as vice president of basketball and business development, and as vice president of basketball operations for the New Orleans Hornets, Reed continued offering his support to GSU at every opportunity. 
On Friday, the late Reed, who passed away on March 31 of this year, once again served as a champion for his alma mater as the establishment of a $1 million endowed scholarship to benefit student-athletes was launched Friday at the Liberty Room of the Liberty House in Jersey City, New Jersey. The event was part of pre-game festivities for the Brick City Classic that pitted the GSU Tigers against Hampton at Red Bull Arena in Harrison, New Jersey. 
GSU Grambling State President Rick Gallot and Executive Director of the Grambling University Foundation Brandon Logan were on hand for the celebration, as was Reed's widow Gale Kennedy Reed and Grambling University Foundation Board Member Dr. David Jefferson, Sr., who served as emcee for the celebration. 
U.S. Sen. Bill Bradley, who served three terms as a Democratic U.S. senator from New Jersey from 1979 to 1997 and ran for the Democratic Party's nomination for president in the 2000 election, losing to Vice President Al Gore, was a teammate of Reed's on those early 1970s Knicks teams and was on hand Friday for the celebration recognizing the scholarship honoring his former teammate. 
"He was the soul of the team in the very real sense of the word," Bradley said of Reed's role on those championship Knicks teams. "And you know, there's a great difference between a star and a champion. New York's had a lot of stars. But only a few have been champions."  
"We weren't the best players in the league, but we were the best team. And for a few years, we were the best team in the world. We exemplified selflessness, discipline, and imagination. I remember the fifth game of the 1970s Finals against the Lakers. Willis goes down with a torn abductor muscle. He was our star, our center, our 'Captain' (as his Knicks teammates referred to Reed), and our leader. He displayed all of our values and was a big chunk of the team." 
While Reed didn't return to the floor for the second half of the 1970 Game 5 Finals contest, his Knicks teammates continued playing with that championship spirit Reed first learned as a Grambling student-athlete. 
"So, we go into the locker room at halftime and we know we've lost him for the second half," Bradley said. "But because of the values we established — selflessness, imagination, and courage, we devised a new offense. We went out in the second half and ran it, and we won. We won because of the values we set. And that set the stage for Game 7." 
The Reed-less Knicks were routed in Game 6 in Los Angeles by 22 points, pushing the series to an ultimate Game 7 at Madison Square Garden in New Jersey. 
Bradley remembered the spark Reed provided to the Knicks in that showdown against Wilt Chamberlain and the Lakers. 
"We left the locker room to warm up on the court, with Willis still sitting there in his chair," Bradley said. "Before we left, (Knicks forward) Dave DeBusschere, who had bonded with Willis, turned and told him, 'All we need from you tonight is a couple of minutes. C'mon Big Fella' … 
"So, we walked out onto the court and The Garden was electric. And then we heard a rumble, and it kept getting louder. Then Willis walked out onto the court and the place went wild. The whole Garden shook. It was so loud, as people started shouting that he was here and was going to play." 
Bradley then described how Reed opened by hitting a 17-foot jump shot followed by a 16-footer.  
"It was over," Bradley said. "Walt Frazier went out and scored 34 points, the rest of us played the game of our lives and we won a world championship. It was magic — the game of our lives and we won a world championship. We won the world championship because Willis had the courage to put it all on the line for his teammates. That's why Willis Reed is a legend. Not because he scored a lot of points and was a great center and captain of our team. But because in a moment when you're either there or not there, he stood up. 
"He stood up for the values he learned as a young kid — courage, selflessness, loyalty. So, I think it's really appropriate that Grambling would honor this great man in this way. … Grambling should be very proud of Willis … because Willis was very proud of Grambling."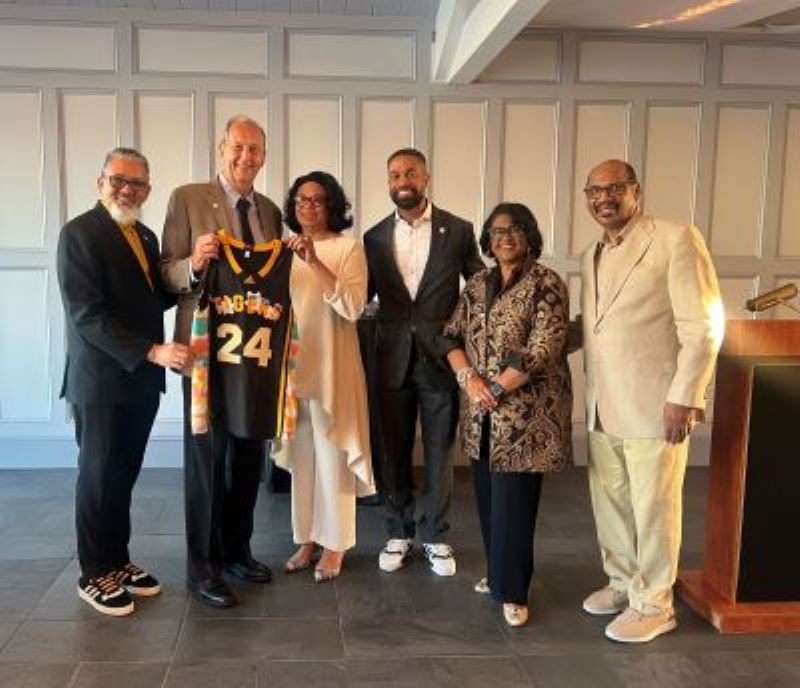 After speaking, Bradley was presented with a No. 24 (Bradley's number) Grambling jersey by Gallot and Logan. 
Former Knick Derrick Coleman first met Reed as a college player for Syracuse contemplating an early jump to the NBA. 
"I didn't play with Willis, I didn't win championships with Willis," Coleman said. "But if it weren't for Willis Reed, I wouldn't be up here right now. Because when I was 21 years old, I thought I knew everything because we all did at that age.  So I was in the gym with Willis and worked out for about an hour straight, no break, no water or anything like that.  
"Afterward, we were sitting around talking. And anyone who krew Willis knew he was a straight shooter. I was trying to figure out life and asked Willis what I should do, and he told me to get my behind back in school. And I listened. That was an NBA champion — 'The Captain' — Willis Reed talking to me."   
Reed offered Coleman some on-court advice, too.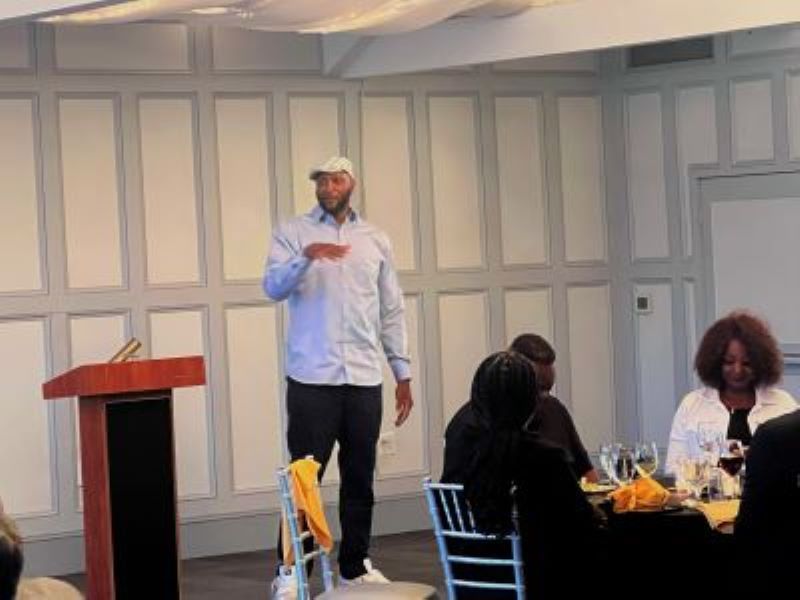 "He told me some things to work on — conditioning, shots, handles, getting stronger," Coleman said. "So, I went back to school and worked on those things he told me to work on and had a really good year at Syracuse. That's how I was able to get drafted and how I'm here as part of the Knicks organization."  
"If I hadn't gone back to school that year, I probably would have gotten drafted, but I probably would have been out of the league in two years, because I wasn't ready. Willis knew that. He told me something that was brutally honest, that I needed to hear. And that was something I always thanked him for whenever I saw him." 
Coleman said Reed, who was working in the Nets' front office when Coleman was drafted by New Jersey before moving on to play for the New York, will always be remembered as the leader of the Knicks. 
"The Knicks family all loved 'The Captain.' We all refer to him as 'The Captain.' He meant so much to New York, like a heartbeat with everything he brought. He wasn't from New York, but he was a New Yorker. And there was no team like those 1970 Knicks. 
"Like Sen. Bradley said, there's a difference between being a star and being a king. And those 1970s Knicks, the 1973 Knicks, the culture Willis Reed nurtured on those teams was a championship culture and we were all fortunate to have benefited from it." 
Just as Grambling State student-athletes will now benefit from the scholarship endowment in Reed's honor will now be able to do.
Anyone wishing to make a gift to the fund can do so at link.gram.edu/reedscholarship. 

Post Views: 77