As we transition from summer to fall, what better way to celebrate the changing of the seasons in your home than through fall flower and foliage decorations. 
As the natural world changes around us and the trees shift from fresh greens to deep red, burnt orange and bright ochre, embracing fall decor ideas inspired by the timeless beauty of the natural world will only help your home to feel more in-keeping with the season. 
From glorious garlands on your front door for outdoor fall decor ideas, to beautiful bunches of autumnal flowers, there are so many creative ways you can style fall flowers and foliage both inside and outside of your home – let us take you through some of our favorite ideas.
6 decorating ideas with fall flowers and foliage 
A nature-inspired fall scheme will always work to be utterly timeless; we explore everything from styling with natural plants and flowers to investing in elegant, long-lasting faux designs from some of our favorite stores.
1. Hang a beautiful wreath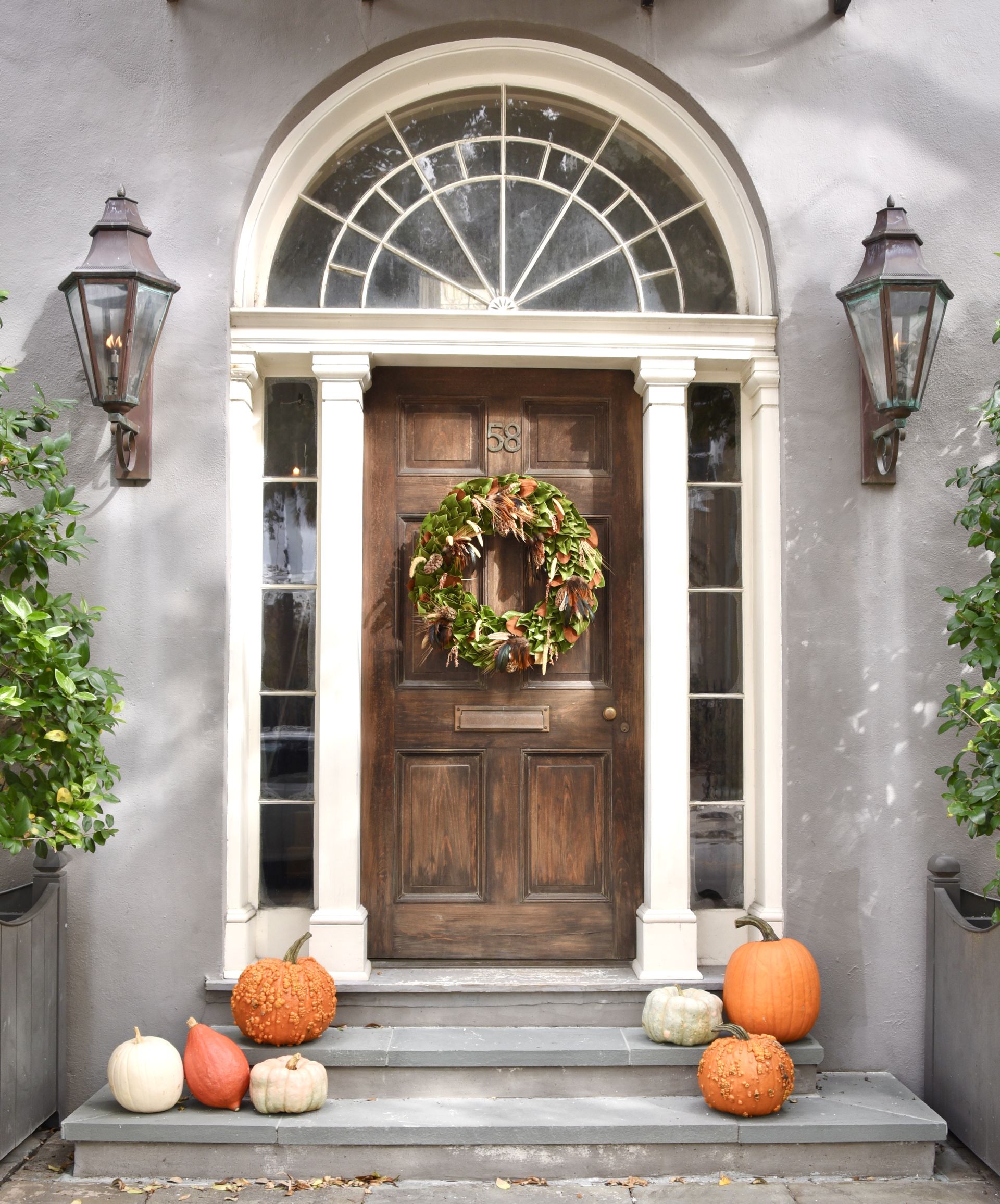 It is fair to say, elegant fall wreath ideas are a timeless staple of fall decor, returning year after year for fall trends. 
Perfect for placing on your front door for fall front door decor, and making the outside of your home appear more festive and inviting, wreaths can also work on doors and walls throughout your home, and are and easy way to make a room feel more seasonal and abundant with the colors and textures of nature.
You can either gather fallen leaves and branches and take cuttings from your yard and garden and learn how to make your own fall wreath, or shop for a beautiful ready-made design – we've included some of our favorites below.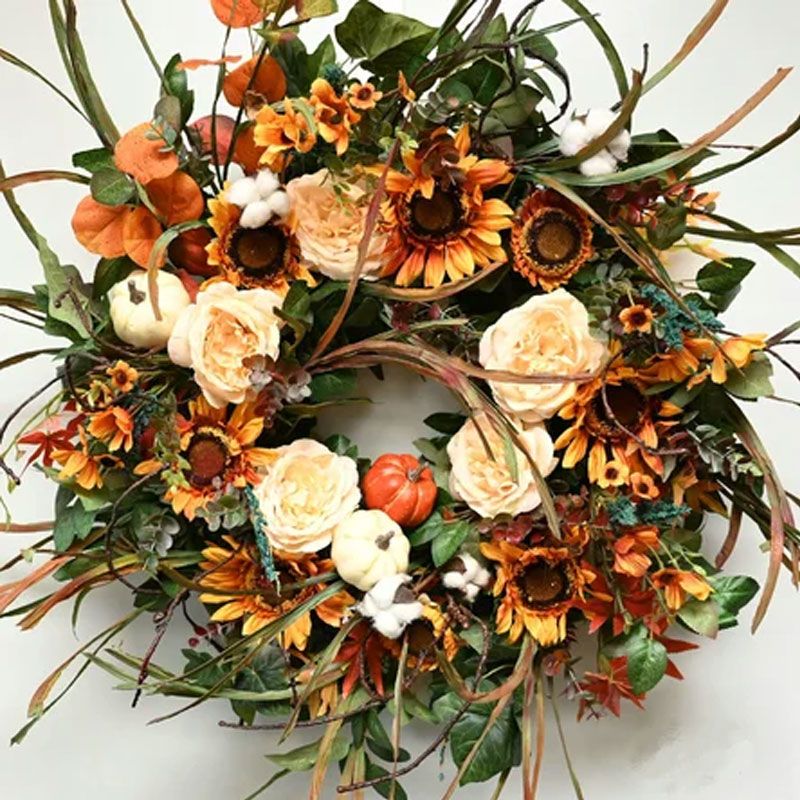 Faux Sunflower Floral Wreath by The Holiday Aisle
This colorful wreath will bring in the beautiful colors of fall into your home, perfect for hanging on a door, on a wall or above a fireplace.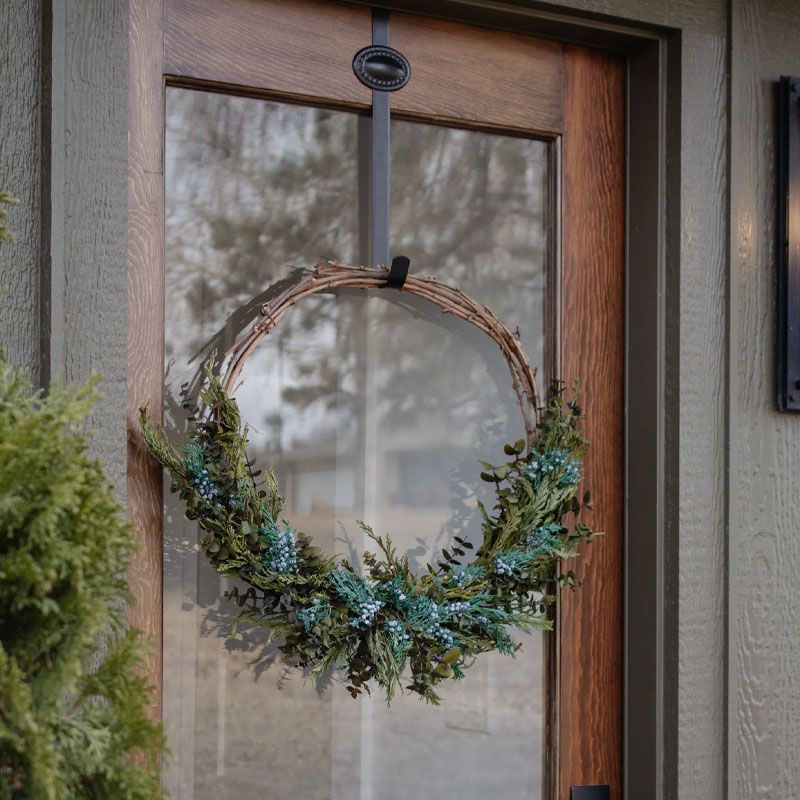 Preserved Juniper and Cedar Pinecone Forest Wreath
Hang this fall wreath on your door or above your mantel, and let the natural, fragrant greens fill your home with the delightful aroma of nature.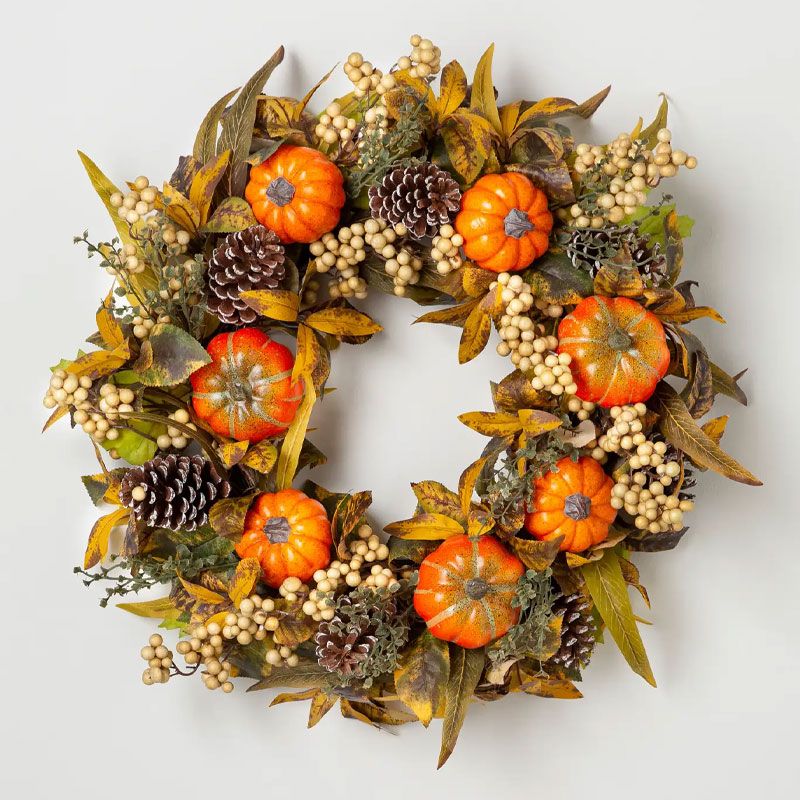 Autumn Abundance Foliage Wreath
Bring the splendor of the season into your home with warm earth tones and natural accents. Faux fall leaves, pumpkins, sprigs of berries, and pinecones provide effortless autumnal beauty on this autumnal wreath.
2. Decorate with nature-inspired garlands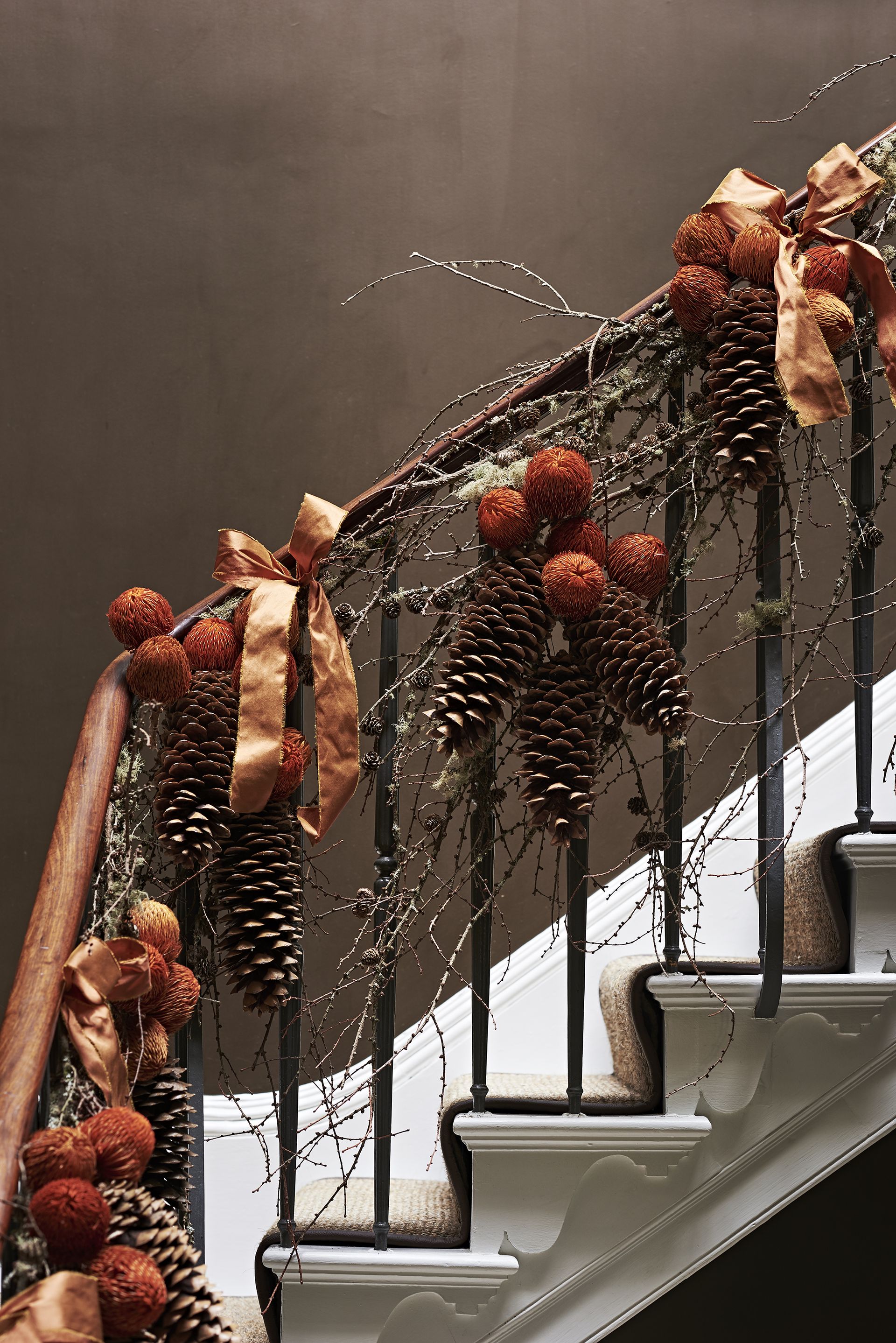 Super similar to a stylish wreath, a garland can enhance your home with even more fall flower and foliage decoration. 
The perfect addition to a fireplace for fall mantel ideas, a garland can also be wrapped around a staircase or a front door for fall porch ideas; a wonderfully versatile decorating tool. 
A homemade garland can be a great fall craft project to enjoy with all the family too – see the rustic pinecone design above for some inspiration. Or, just like our favorite fall wreaths, there are plenty of different designs you can buy online or in-store.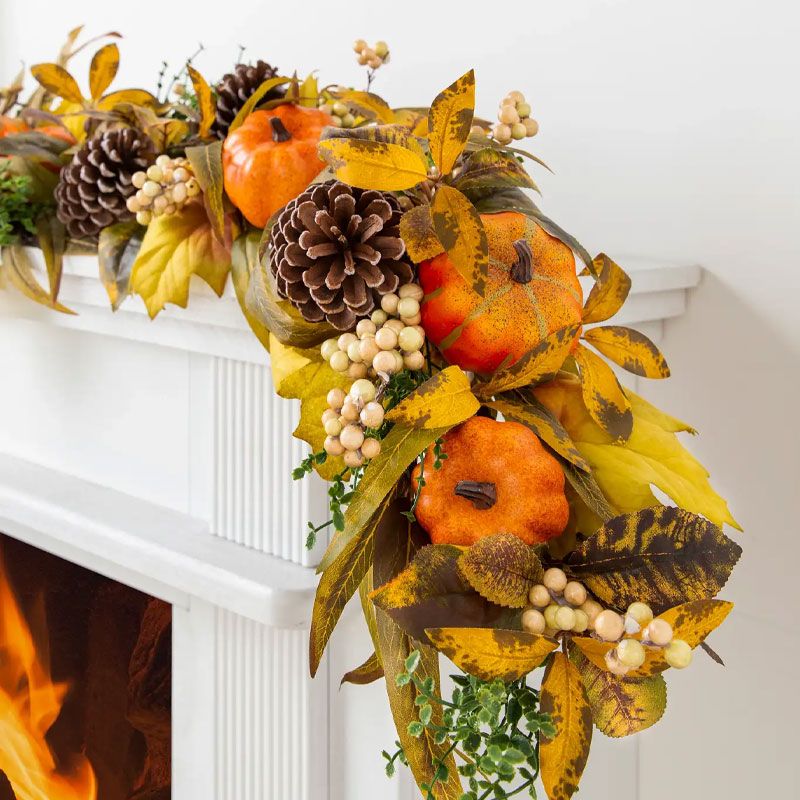 Autumn Abundance Foliage Garland
Perfect for dressing a mantel, stairs or even for decorating your front door, this beautiful autumnal garland from Balsam Hill perfectly captures the colors of fall.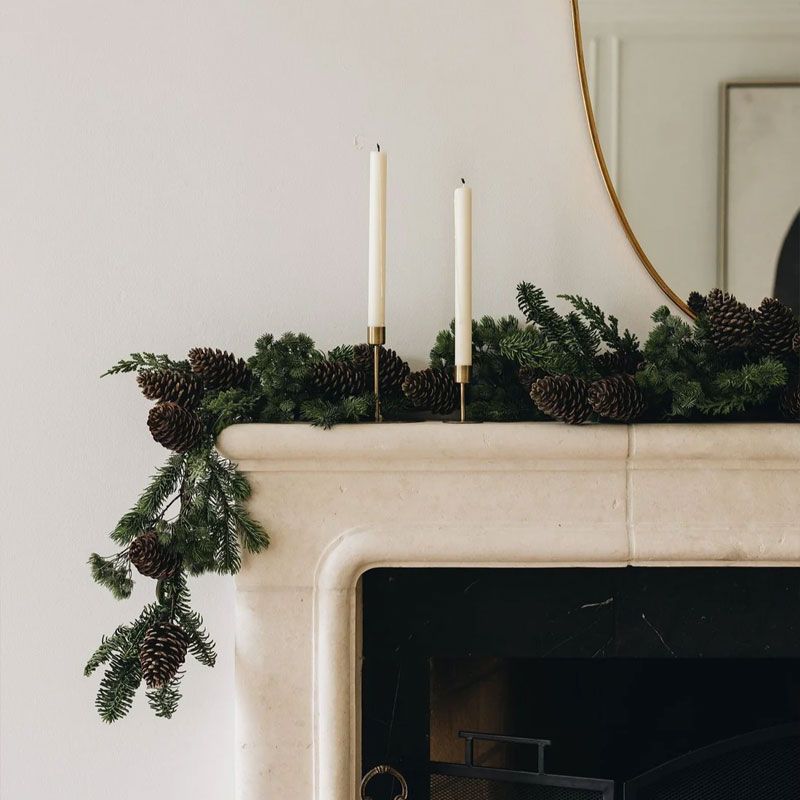 Real Touch Spruce and Pine Cone Garland
This real touch spruce garland has lush holiday greens and pine cones that bring the feeling of nature to tablescapes and mantle centerpieces.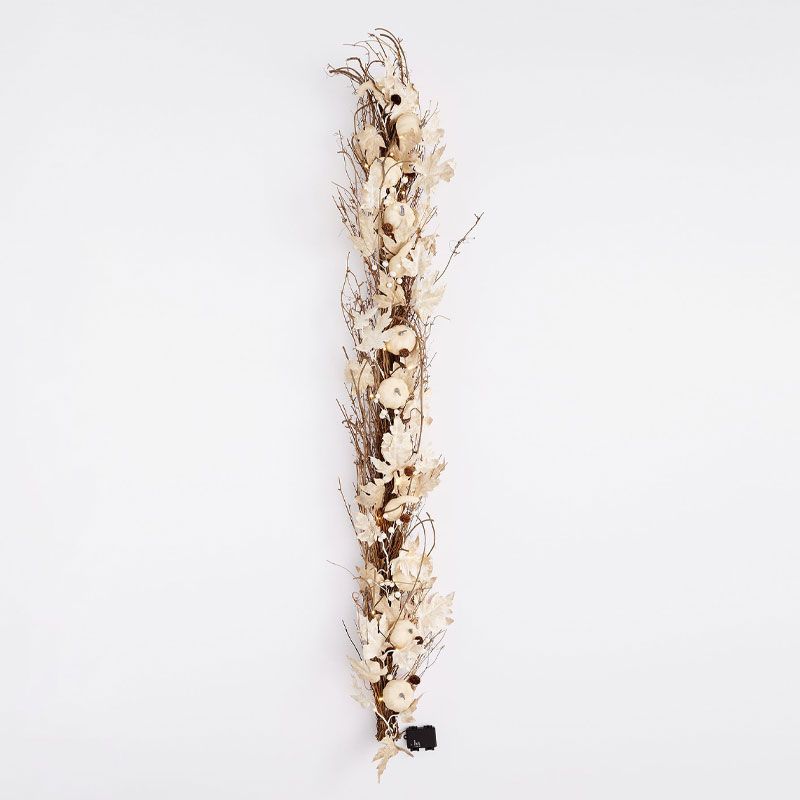 Lit Faux Harvest Pumpkin Wreath & Garland
Modern and high-contrast, this pinpoint-illuminated garland pairs delicate bare branches with white maple leaves and miniature pumpkins, perfect for a more minimalist fall look.
3. Display vases of seasonal plants and flowers indoors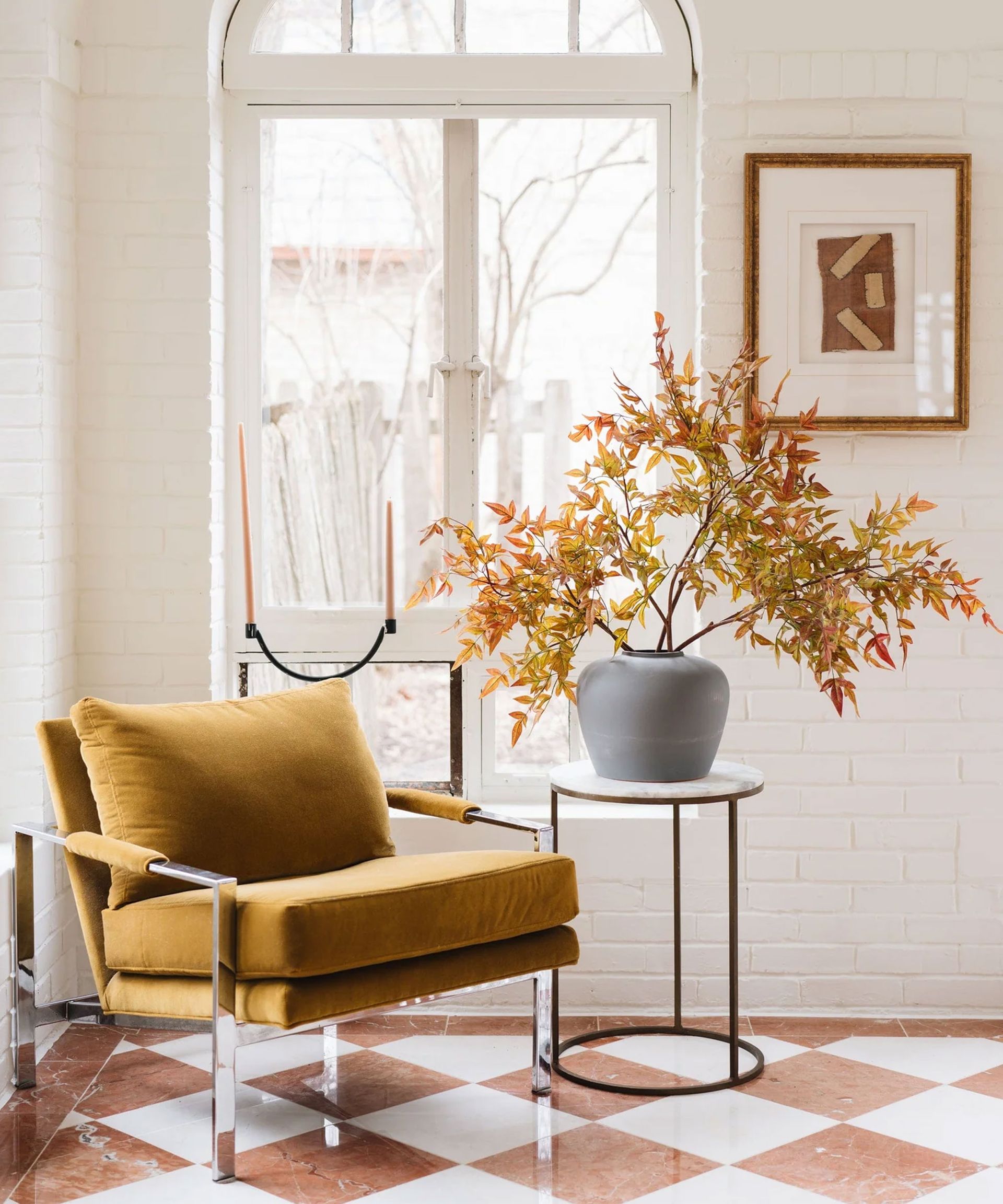 'One way to prepare for the fall is to start collecting vases and larger accessories that add warmth to a space. A new large vase that you can style with fall florals and foliage can add a statement to any room. Rather than using the same simple glass vases used throughout the year, make it a point to shop for a few new pieces to make the season feel more special,' says US interior designer, Brooke Spreckman.
Above, the over-sized Nandina Leaf Branch from Afloral creates a stunning sculptural statement, and works in beautiful harmony with the cozy color palette of the armchair and flooring, with the cool gray vase establishing an elegant note of contrast.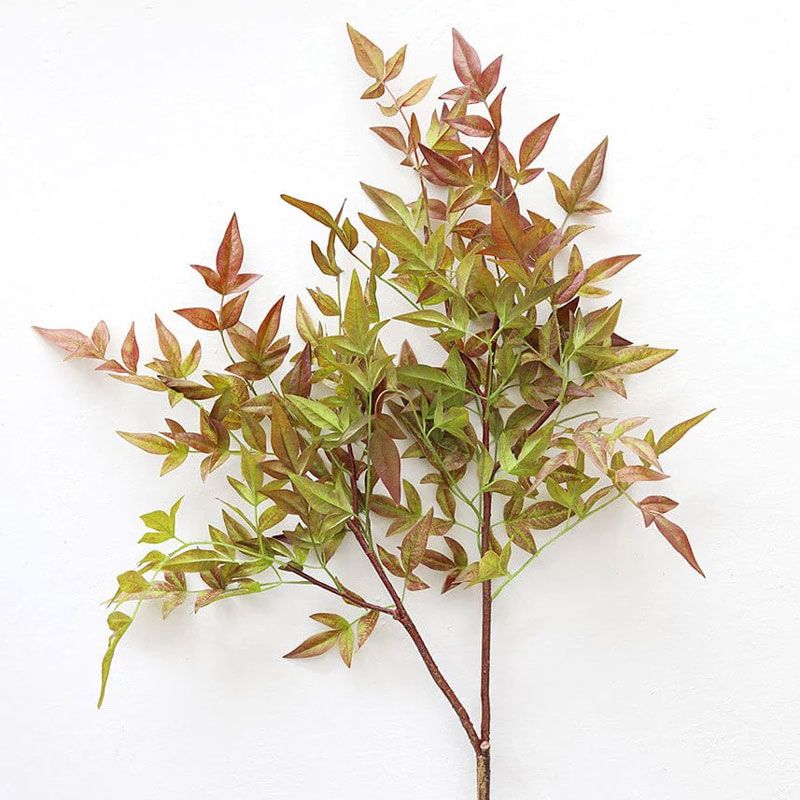 Artificial Nandina Leaf Branch
Also known as Heavenly Bamboo and Sacred Bamboo, this colorful burgundy green fake tropical branch is so simple to style in a tall vase.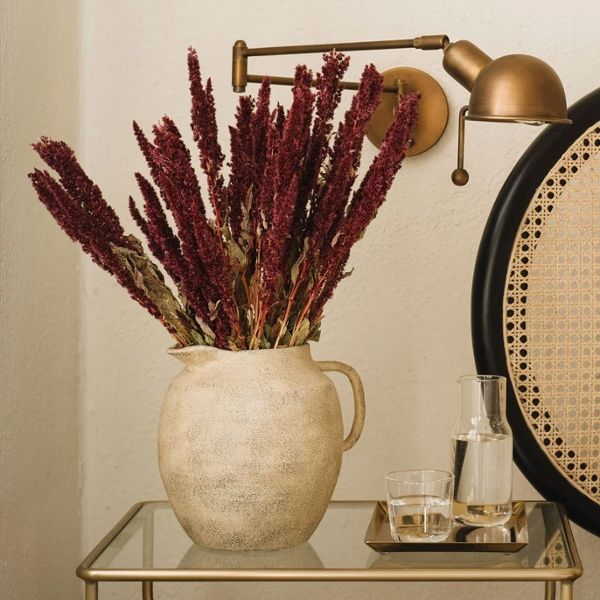 The deep, rich purple hue with burgundy tones of these dried flowers is perfect for creating a moody look for fall.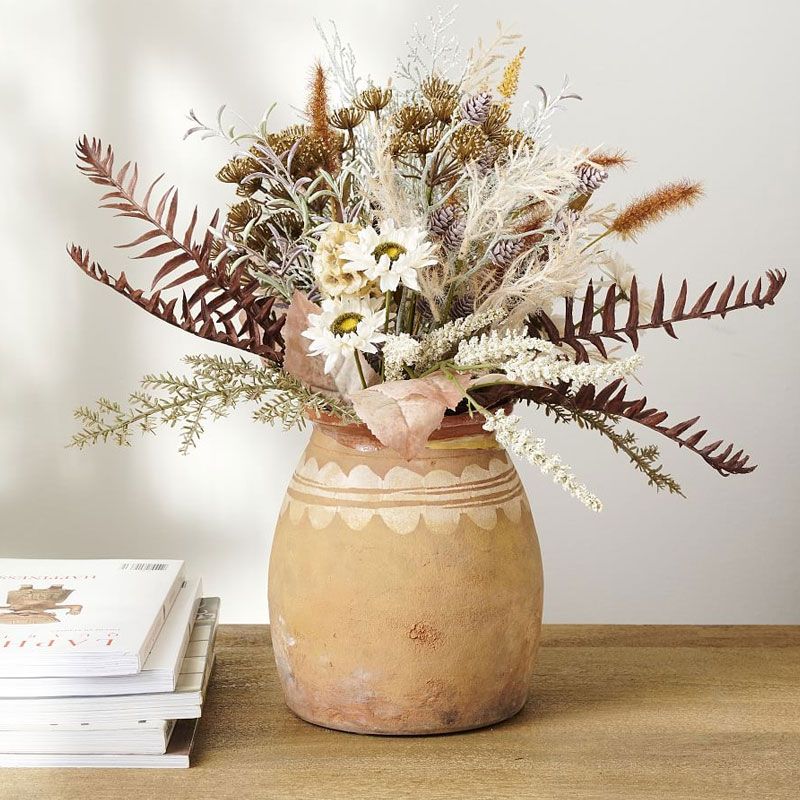 With the soft beauty of mimosa and reed blooms, even one bundle of these botanical blooms can make a beautiful statement, ideal for placing on a dining or coffee table.
Principal and Owner of Design Hutch Interior Design, Brooke Spreckman has been practicing Interior Design since 2013 in Los Angeles, San Francisco, New York and beyond; and has a diverse background in residential and commercial design.
4. Dress your outdoor space with fall plants and flowers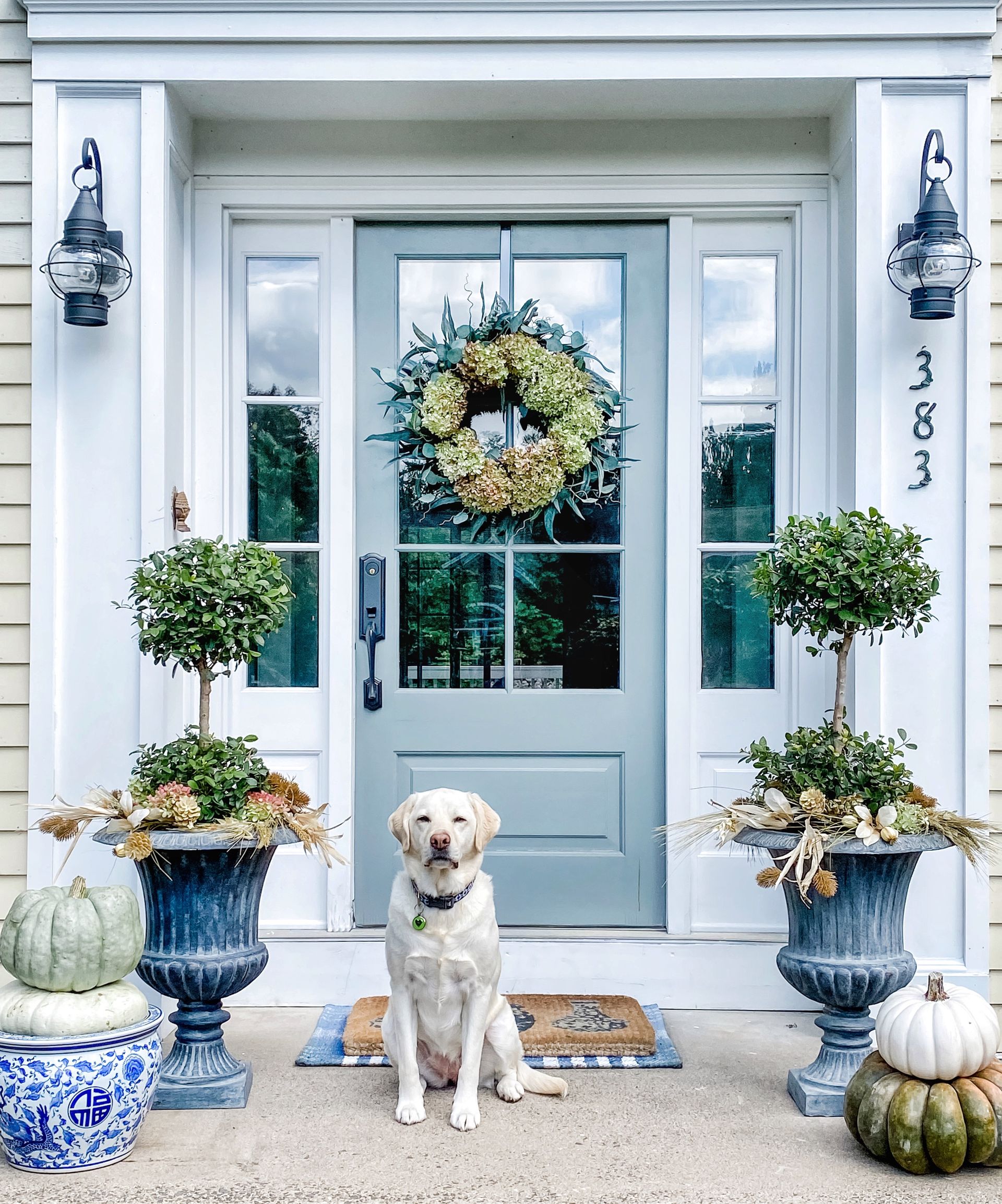 'If you've been organized planting the best trees for fall color and plants for fall color, then your outside spaces will already be rich with plenty of fall foliage and flowers. From trailing ivy to potted mums – a beautiful fall flower for pots, to winter heath and dainty violas, there are so many seasonal options to consider for your outside spaces,' says Homes & Gardens' gardening expert and former professional gardener, Holly Crossley.
We love this fall front door fall scheme by Pamela Dyer from Home on Fern Hill. The all year round planters on either side of the door have been enhanced with a select scattering of fall foliage and flowers, with the stacked pumpkins and natural wreath tying the whole look together; a lovely example of more subtle, natural fall decor.
We explore more fall planter ideas in our dedicated feature.
Holly is a former allotment keeper and professional gardener. She now spends her time tending to her many houseplants, painting her favorite flowers, and writing about gardens and outdoor living for Homes & Gardens.
5. Create a stand-out natural centerpiece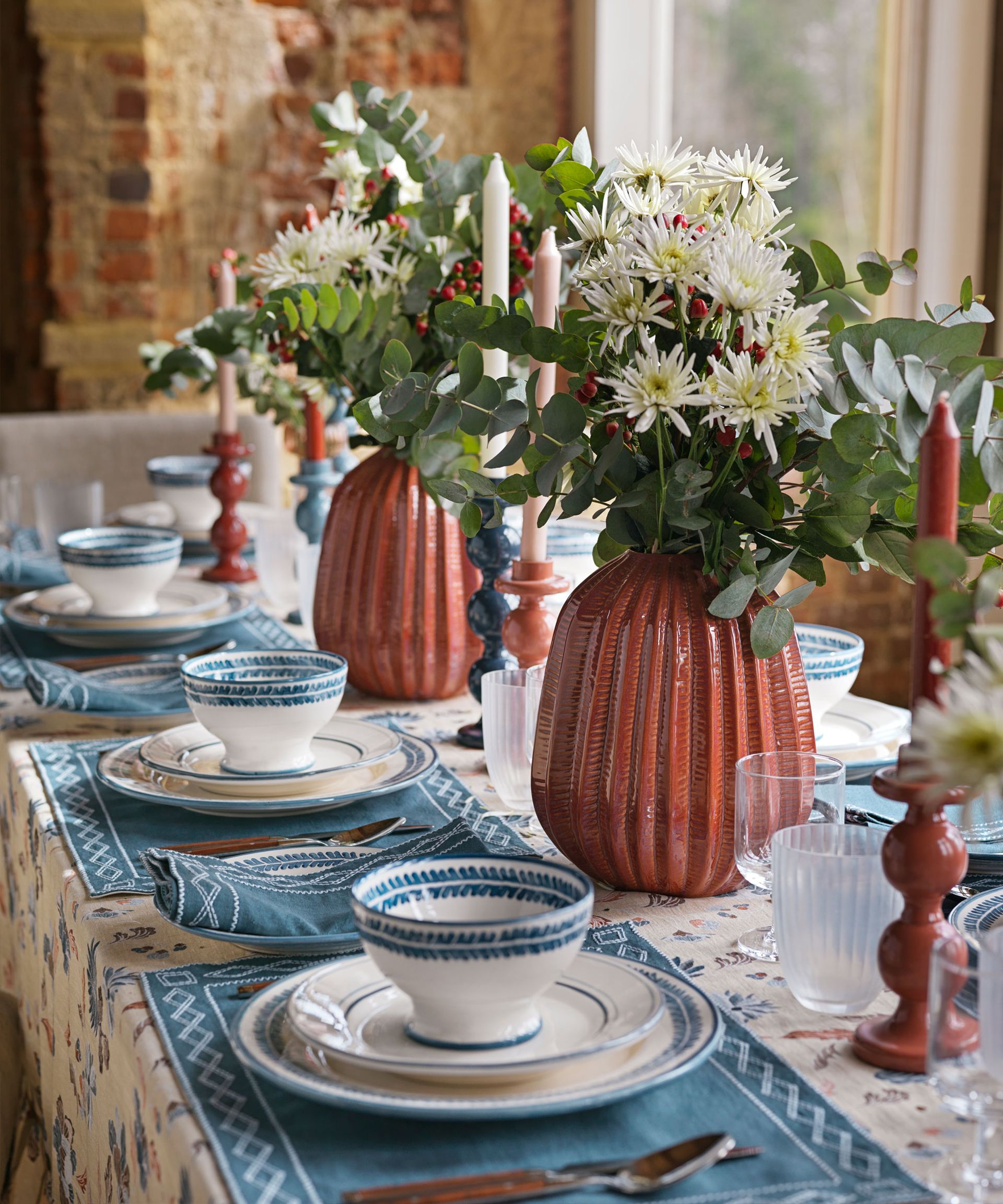 As we move from summer dining outdoors to cozy entertaining indoors, fall table decor ideas can make your dining and kitchen spaces feel that little bit more special for the season. 
Every pretty tablescape needs a stand-out centerpiece, and styling vases and bowls, like this stylish raised Tri-Footed Ceramic Centerpiece Bowl from Crate and Barrel, with beautiful fall stems, flowers, pinecones and more, can bring beautiful seasonal color, texture and visual interest to your table.
'I love this beautiful tablescape design by designer Birdie Fortescue,' says Jo Bailey, stylist and Homes & Gardens' print editor. 'The autumnal floral arrangements, enhanced by the deep orange vases and coordinating candlesticks, create an elegant contrast with the sky blue tableware, placemats and tablecloth; establishing a more fresh fall scheme that feels wonderfully uplifting and inviting.'
Of course, you can't beat the beauty of fresh flowers and foliage cuttings, but if you're looking for a more long-lasting table centerpiece design, then faux or dried flowers will be able to last for your Thanksgiving table decor and even your Christmas table decor. 
Jo Bailey is Deputy Editor of Homes & Gardens, overseeing all features for the print edition. Before joining Future PLC, she worked as an interior stylist for over ten years, specializing in commercial photo shoots for luxury clients such as; Design Centre Chelsea Harbour, Christopher Farr Cloth and Heal's. She has worked with Homes & Gardens for over a decade, having styled and produced editorial shoots and events over the years.
6. Pair pumpkins with flowers and foliage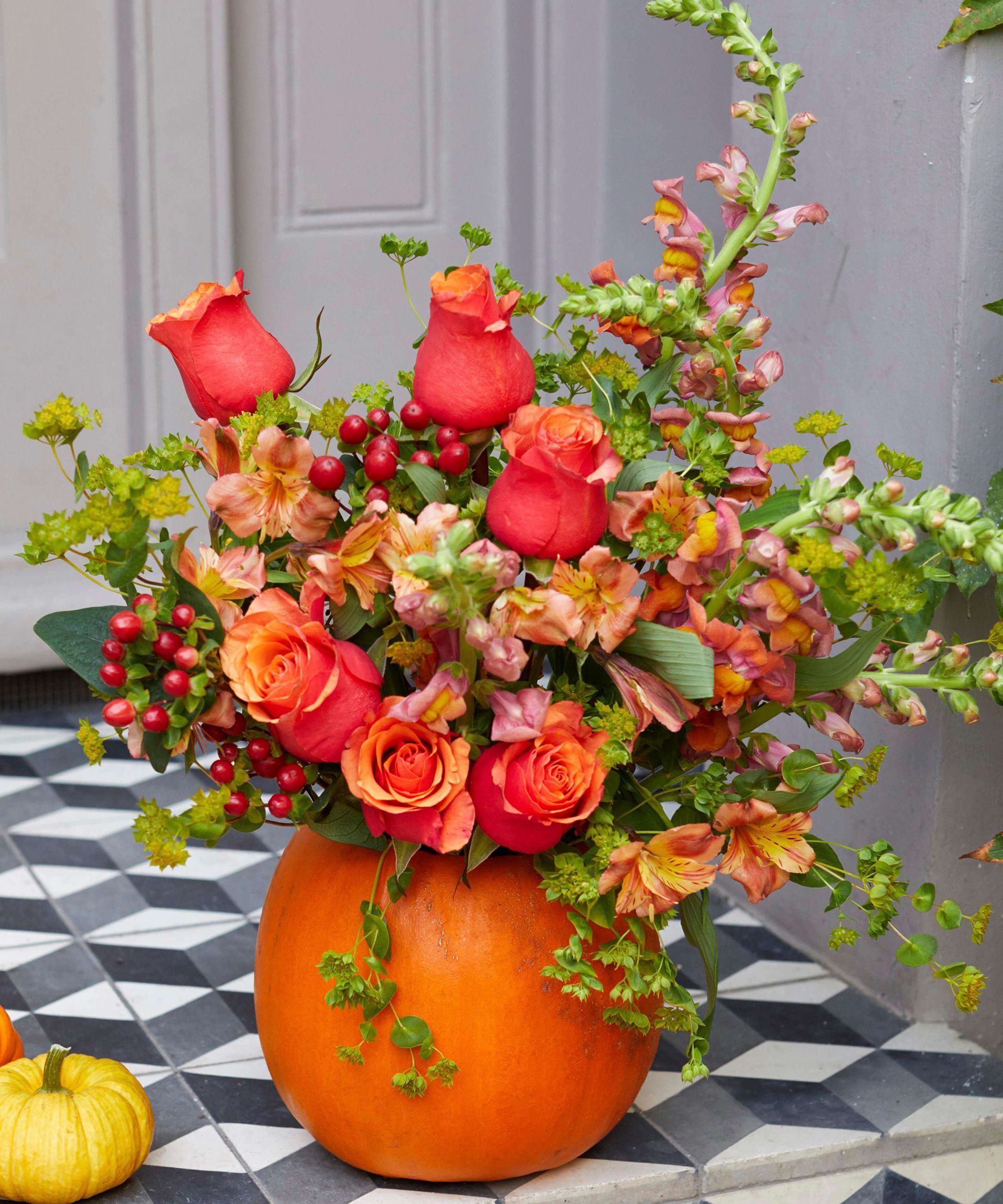 A pumpkin planter perfectly intertwines fall decorating with Halloween decoration ideas, and is definitely a more unique way to decorate with pumpkins both indoors and outdoors.
Fill your carved pumpkin with a beautiful collection of fall foliage and flowers, and position the design on a dining table, on a windowsill or even outside your front door; bound to catch the eye of passers by. 
We take you through how to make a pumpkin planter in our dedicated piece. 
FAQs
How do you use fall leaves for decor?
As the colorful fall leaves start to drop from the trees, don't just sweep them to one side, gather them up and use them throughout your home for fall decor. 
We think they're perfect for using on a homemade fall wreath or garland, and larger branches of fall leaves can also be placed in a vases or rested upon a mantel or sideboard. 
Just like you would press flowers, fall leaves can also be pressed and placed in elegant glass frames, ideal if you're looking to refresh your wall decor ideas for fall.
---
Instead of placing fall flowers and foliage inside a pumpkin for decoration, why not use them to decorate the outside instead. Below, Cassandra Evans from northwoodsfolk shows us how to press delicate leaves and flowers onto a pumpkin. We definitely know what we will be doing four our next fall or Halloween craft project…